I was given a complimentary copy of Dashing Dish for review purposes. ALL opinions are my own.
I think I might be in love. If love equals lots of tasty recipes that are easy to make and so good for you all rolled into one amazing clean eating cook book. Then yep, I'm head over heels in love!
Allow me to introduce you to
Dashing Dish
. I've been a fan for several years and definitely recommend that you check out the site. Dashing Dish is a popular cooking and healthy lifestyle website created by Katie Farrell. Katie takes yummy foods that everyone loves and puts a healthy spin on them. I've tried several of her recipes in the past (especially her protein shakes) and have always like everything I made. So when I heard that she was creating a cook book I couldn't wait to get my hands on one.
The Dashing Dish Clean Eating cook book does not disappoint; it is chock full of amazing and tasty recipes. As soon as I received the book, I flipped through the recipes and my mouth was watering reading over everything. I've never loved so many recipes in a single cook book before and I want to make virtually every thing! From Carrot Cake Pancakes to Baked Mac and Cheese to a Cake Batter Protein Shake and Pizza Stuffed Chicken Breasts, I'm telling you she has some incredible dishes for you to try.
I love that Katie has come up with healthy alternatives to all of my favorite foods. So now I can still eat the foods that I love and not have to feel guilty afterwards. In fact, I'm fueling my body with tons of protein. Every recipe is a clean eating recipe full of healthy and wholesome ingredients. And since Tolar and I recently finished a clean eating challenge and have started to incorporate some of those choices into our lifestyle, this cook book arrived at the perfect time. Before I go even further you might be wondering one simple thing...
What is Clean Eating?
-Replacing processed foods with whole foods / consuming foods in their natural state or as close to their natural state as possible
-Choosing unrefined over refined foods
-Less Sugar and Salt in your diet
-Increasing Water Intake (I try to drink 80 ounces of water a day)
-Eating 5-6 small meals a day
Some people might think that clean eating means that you cannot have yummy and tasty meals. Well, after taking our challenge I found that to be extremely false. In fact, I fell in love with so many things during our clean eating challenge that I still make them now. And the recipes in Katie's book are absolutely satisfying and oh so yummy. Over the weekend I made the Dashing Dish Three-Cheese Chicken Pasta Bake and we absolutely LOVED it. Even Baby K gobbled it down. The dish was incredibly tasty, full of flavor and tasted like something I would order in a restaurant. And the best part??? It only has 154 calories per 1 cup serving!!! Can you believe that??? The sauce was so creamy and was made with healthy ingredients. I can honestly say that had I not told Tolar it was a Dashing Dish clean eating recipe, he would never have known it was actually good for him.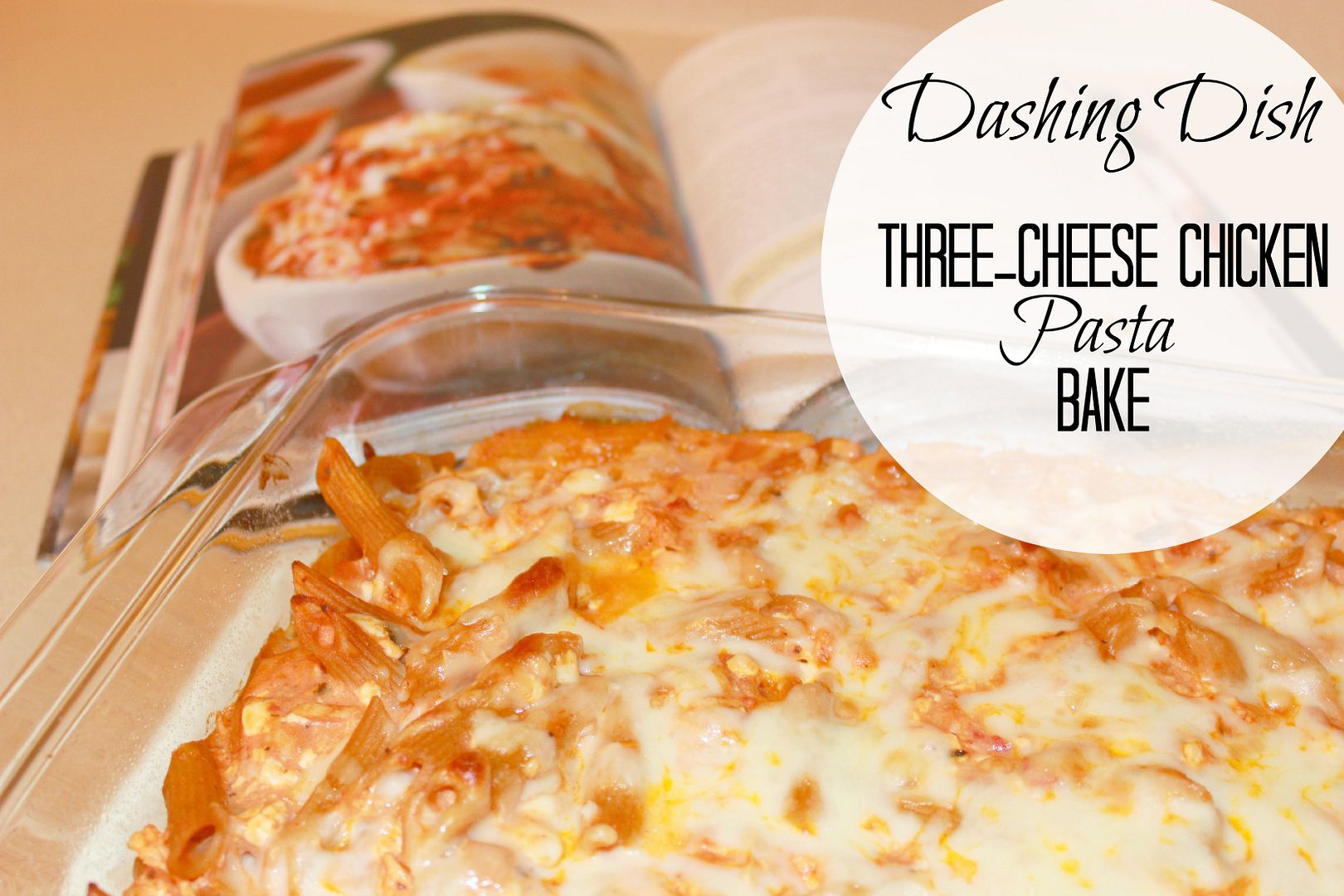 I was incredibly impressed with how easy it was to make the Three-Cheese Chicken Pasta Bake as well. All I had to do was combine everything into one bowl and bake. Simple, easy, tasty - yes, yes yes!!! This dish immediately got added to our menu planning rotation. In fact, I really want to make it again next week I loved it so much.
There are so many great dishes that I can't wait to try. Next up, I'm making her Warm Cheesy Spinach Dip, Cheesy Broccoli Bites (there seems to be a theme with my taste buds) and Spaghetti Squash Alfredo.
Tolar and I could not be happier with this cook book and are very excited to be able to add so many healthy and delicious recipes to our life. Our mission to a create a healthier lifestyle is taking shape and we don't have to sacrifice taste to do so.
You can order your very own copy of the Dashing Dish cook book on
Amazon
. Happy cooking!