I actually feel more prepared with gift ideas for my seven year old daughter this year than I ever have before. Yes, she's more vocal about all the things she wants, so that helps. To compile this list, I also asked my followers on instagram for their feedback on gifts for girls ages 6-10. So get ready for a fun gift guide with some ideas on what to buy for an elementary
aged girl.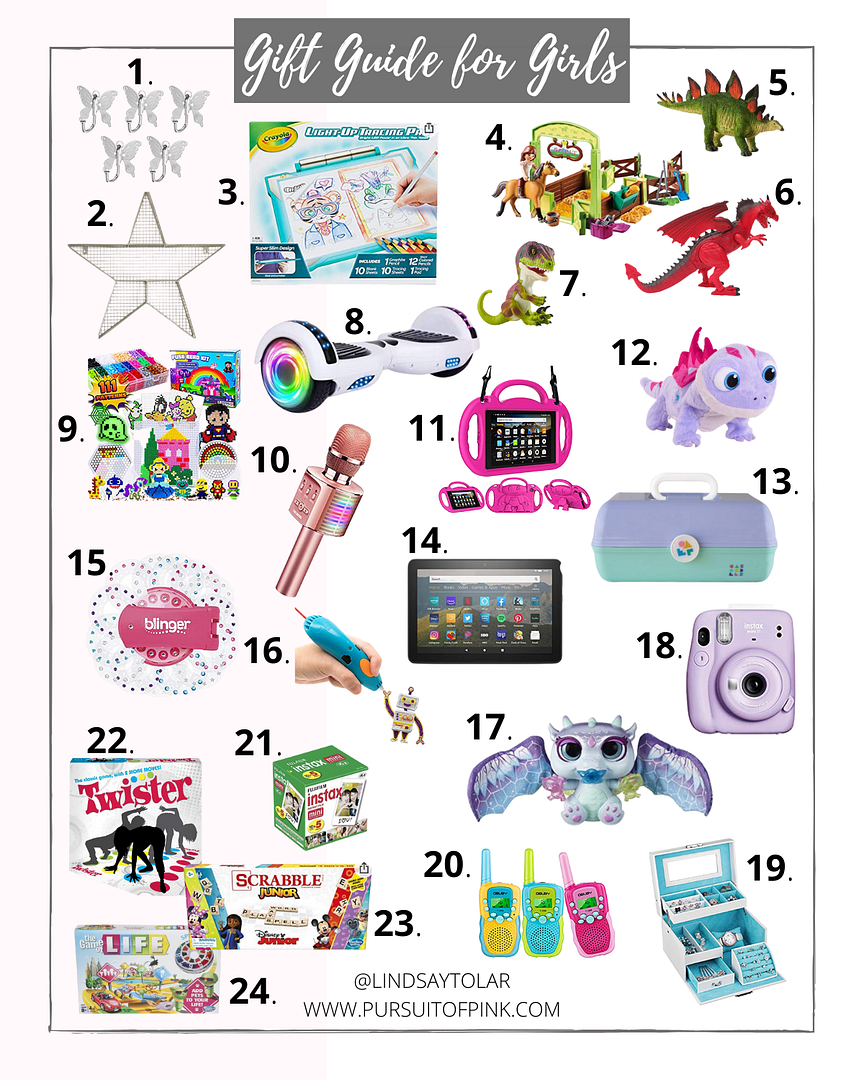 All of the gifts that are included in this guide are either items/toys that my daughter already has and loves or are items that are on her Christmas list.
1.)
Butterfly Wall Hooks
- This gift actually surprised me, but when I asked my daughter what are some items that she has and loves, she told me that she loves the pretty hooks in her closet. :) She uses the hooks to hang her pajamas, her purses and her camera bag.
2.)
Star Shelf
- I figured if we were going to have hooks, we might as well have a pretty shelf. This star shelf is pretty enough by itself, but would look awesome in a little girl's room with some fun pictures in frames.
3.)
Light Up Tracing Pad
- I am REALLY excited about this gift because I know my daughter will love it. For any little girl that loves to draw, this is the perfect gift. It comes with ten different tracing sheets, colored pencils, paper and more.
4.)
Spirit Riding Free Playset
- My daughter loves horses and really enjoyed the Spirit Riding Free series on Netflix. She currently owns this playset and loves playing with it. The set was easy to build and comes with plenty of accessories for playtime.
5.)
Realistic Stegosaurus
- This is the exact dinosaur that started my daughter's huge love of dinosaurs. While she has recently moved on to preferring dragons instead, I wanted to include this in case there are any other girl dino lovers out there (I know there are lots!). The dinosaur is extremely realistic looking; I greatly appreciate their attention to detail.
6.)
Walking Dragon
- For the dragon lover, this is a must. My daughter has this toy in black and the quality is great, especially for the price.
7.)
Untamed Raptor by Fingerlings
- Here is another dinosaur that helped fuel my daughter's love for dinos. These fingerlings are responsive to touch, they will move their heads and make noises. This is something my daughter regularly plays with.
8.)
Hoverboard
- I must admit, this is a gift that I want for myself. HA! My daughter uses hers often and it is quite impressive to watch her ride around on. I've let my daughter ride the hoverboard inside the house and it has not scratched up my floors at all.
9.)
Fuse Beads Craft Kit
- I think it might be a rite of passage for all girls to play with these. The large set comes with 5500 beads and a pattern booklet to create all sorts of designs. I can't wait to work on this with my daughter.
10.)
Karaoke Microphone
- If you have a singer in your family, this would be such a fun gift. The microphone has bluetooth capabilities and can be used as a speaker, player or recorder. And I'm sure the kids will love the flashing colored lights.
11.)
Tablet Case
- If your child has a Fire HD Tablet, this case is perfect for them. It has two handles on the side, which makes for easy holding. There is also a stand in the back that can prop the tablet up for hands free viewing. And finally, it has a carrying strap. We like to place the strap over the front seat of the car, so my kids can watch hands free while we take long trips.
12.)
Frozen 2 Walk and Glow Salamander
- Frozen 2 was an exceptional movie, so I am all about buying the toys that go with it. You can tell from the name that this toy walks and lights up.
13.)
Caboodles Make Up Case
- I cannot believe these things are back, but I am so excited! I loved my Caboodles as a kid and I'm happy to share the excitement with my daughter. But do me a favor, if you buy this for your daughter, please don't buy her play makeup to go with it. Get her the real stuff, you don't have to buy expensive stuff, just get something better quality.
14.)
Fire HD 8 Tablet
- You don't need to spend a ton of money on a tablet for your kids, the Fire HD is the perfect tablet for them. They are inexpensive and do everything you kids want: movies, YouTube, books and games. Pro Tip: Amazon puts these on sale A LOT, so keep your eyes peeled for a good deal.
15.)
Blinger Styling Tool
- Girls can have fun adding bling to their hair, their clothes, their purses and more.
16.)
3D Pen
- Let your child bring their drawings to life with this 3D Pen. The pen is safe for kids to use and can be touched with no burn risks.
17.)
Snow Dragon
- My daughter loves the FurReal pets because they are so interactive. We've bought a couple FurReal pets over the years and they all still work, so I am confident in the quality. The snow dragon has over 50 sounds and reactions.
18.)
Instax Camera
- A friend of ours brought her camera to Christmas last year and let my daughter take pictures from her point of view. She loved every second of it and wanted one for herself. The camera is very easy to use and is also easy to load/unload the film.
19.)
Jewelry Box
- This was another item that my daughter said she absolutely loved. If the little girl in your life is anything like mine, she has collected a lot of jewelry over the years. This jewelry box has lots of different compartments making it easy to organize everything.
20.)
Walkie Talkie
- I feel like these are another rite of passage for children. I'm sure we all remember how much fun we had pretending to be spies while playing with our walkie talkies. These are perfect if you have a child that likes to camp in the backyard.
21.)
Instax Film
- If you buy the Instax Camera, you need the film to go with it. Trust me, buy the largest pack available because your child will go through a lot of film. :)
22.)
Twister
- Games are a must for just about anyone! My daughter loves to challenge me in Twister; she highly recommended that I add this to list because she loves it so much.
23.)
Scrabble Junior
- This is such a great game to work on spelling! One side has an empty board where you can play regular Scrabble. The other side has words already created and you have to match up the letters to make a word. If you have a Scrabble lover in your family, tell them to buy this for a young girl.
24.)
The Game of Life
- We bought this game at the beginning of quarantine and have loved playing it as a family. While it is very fun, it helps children practice counting money and also helps them see that having a good paying job is important.
Shop This Post