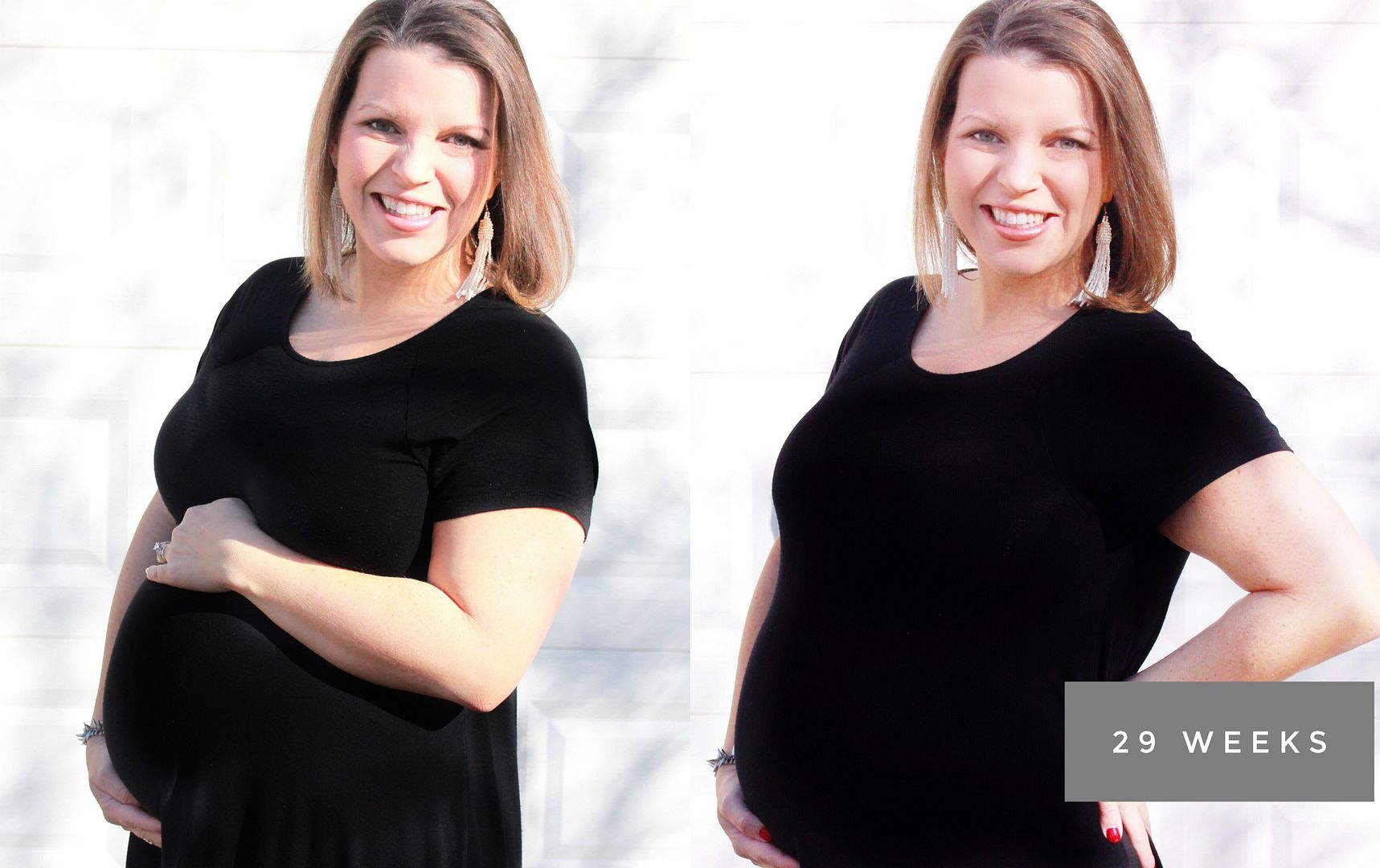 Suddenly I find myself at 29 weeks with my pregnancy! Wow, has time flown!
I did a bumpdate when I was 20 weeks, to read that just
click here
.
How far along:
29 weeks and 1 day (Thursdays are when my weeks begin).
Thoughts:
Things are getting REAL. I feel the baby moving all the time which makes me remember that in under 3 months we will be welcoming this precious boy into our family. I'm still feeling slightly overwhelmed that our lives are drastically changing by having a baby and building a house at the same time, but those overwhelming feelings are extreme blessings so I'm perfectly content. There are times I'm still amazed that a boy is joining our family and I cannot wait to see how my sweet Kendall nurtures and takes care of her baby brother.
I'm also praying through making my Kendall not feel neglected. She has had our extreme focus for almost five years and I certainly don't want her to feel like she is loved any less. I am not concerned with how I'm going to love this boy as much as her because I already have so much love for him. I just want to make sure that Kendall doesn't think there is a decrease in care, love and attention. Mamas of multiple children...share your tips? I'm certainly planning on involving her in ALL aspects of taking care of him as I know she will be a terrific helper.
Advice Received:
I've read lots of things about baby sleep habits and getting them to sleep through the night. There are SO MANY OPINIONS out there. We swore by the book
The Baby Sleep Solution
and definitely plan to use it again as it was an absolute game changer. Kendall slept through the night around 13 weeks with the help of this book, hopefully this little guy will too! I'm preparing myself that every baby is different, but we do still plan to implement the practices from this book.
Baby:
According to my app, baby is now the size of a Hawaiian Pineapple. At a recent doctor visit, they did a measurement check and determined he was about 2 pounds. He moves around a lot; I often feel pressure in the bottom of my stomach and other times I feel pressure at the very top of my baby bump.
Movement:
This baby does NOT let me forget that he is around. In fact he moves all the time!!! I even joked one time that I thought he was "Riverdancing" in my womb because there is constant movement. Around 24 weeks Tolar felt him kick/move for the first time and he has been able to feel the baby kick pretty consistently since then. Kendall wasn't willing to hold still long enough to feel brother kick, so she only just felt him move about a week ago. Brother gave his sister two strong movements to let her know he was there. It was fun to witness. This boy is constantly on the move...is that a foreshadowing of what is in store for us? And as I type this post he just gave me a huge kick. Sometimes his movement is borderline painful.
Sleep:
I have been pretty consistent getting my nightly nap in. HA! Every night between 9 and 11 p.m. I am often found asleep on the couch. Sweet Tolar will come in and wake me up for me to move to our bed. Right now, sleep isn't too bad. I mostly sleep on my left side, but will turn to my right occasionally. Turning over is quite a chore with my belly as big as it already is.
Food:
I still haven't really had any cravings with this pregnancy. I have preferred buffalo chicken sandwiches and buffalo chicken dip a lot, which makes me think this boy might be like his daddy - a buffalo wing lover. I have started experiencing pretty bad acid reflux, but I know that is normal. Luckily my doctor said I can take Zantac which seems to be helping.
Weight Gain:
At my last doctor's appointment, I was up 7 pounds total. My scale at home says I'm up 8 pounds though. My doctor was pleased with my weight gain and said I'm perfectly normal with my weight gain. My goal is to not really exceed 15 pounds...but I know I'm in the months where the weight can really pack on (and the holidays were certainly good to me).
Preparing for Baby:
I've already received quite a lot of cute clothes for the little guy and we've started buying diapers when we see them on sale. Since our new house won't be ready before the baby comes, I won't have a nursery set up in advance for him. But I'm already working on decor for his nursery so everything will be ready when we move. I have cleared off the book shelf in our bedroom and will use that to store all of his stuff until we move. I've also been giving away and selling all of Kendall's old clothes to make room for all of the new baby stuff to come.
Prayer Request:
Since we have been blessed to receive positive report after positive report with this baby, my prayer request is that he will continue to be a super healthy baby. I will always covet your prayers for a smooth labor and delivery. My delivery with Kendall was a breeze (as far as baby deliveries go!) and my prayer is that this one will go even smoother.
Here is my bump progress so far: