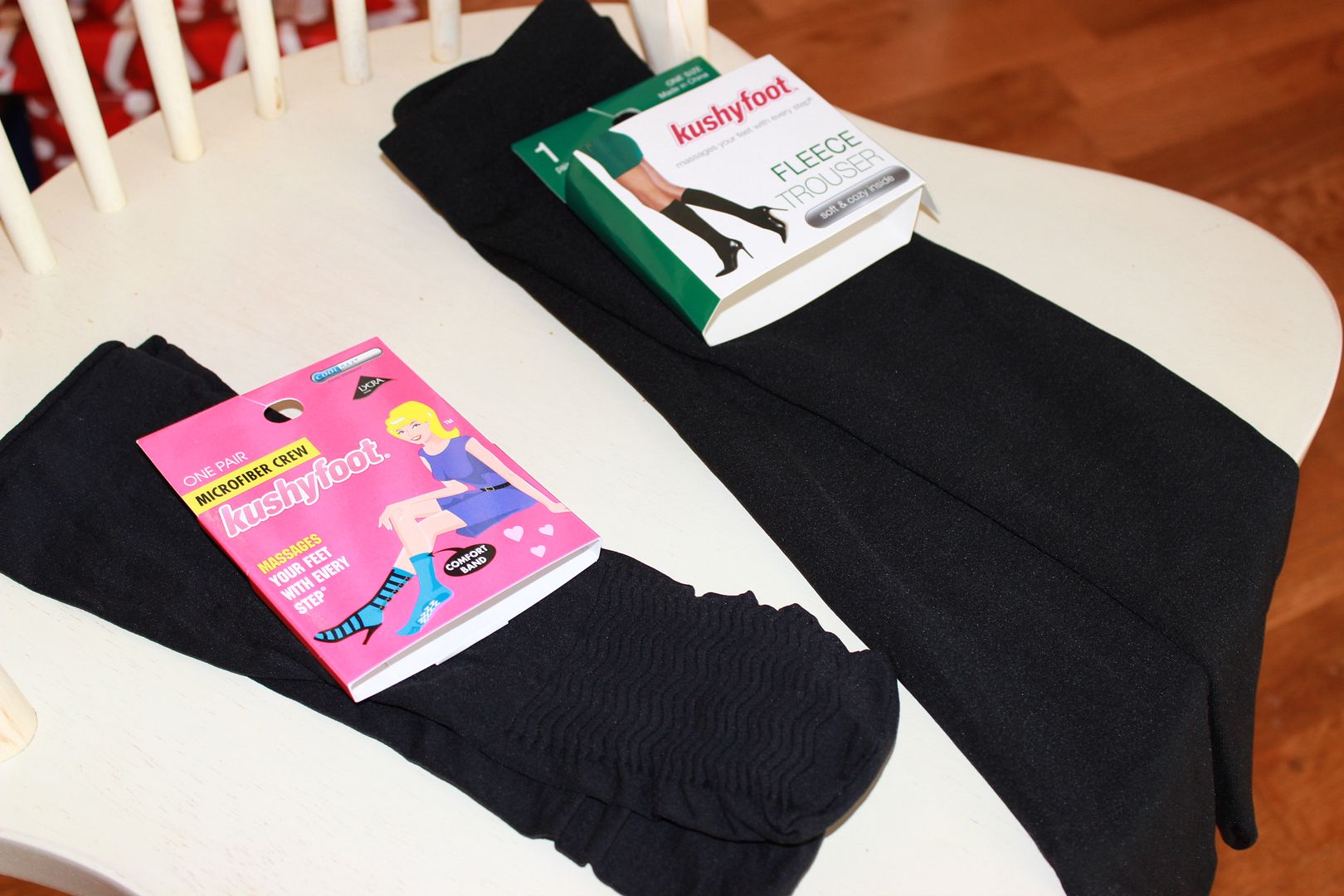 So my sister texted me the other day asking what color tights she should wear with a dress and I immediately texted her back and said black. Black tights are always a winner during the winter and holiday months. Something about them just sets off an outfit and screams, "yep, I'm ready to celebrate." But I should have been more specific and told my sister black ribbed tights. More specifically black ribbed tights from
Kushyfoot
.
These ribbed tights are my new favorite tights and I knew they would be from the moment I saw them on the screen. I love the texture that the ribbing adds to an outfit, definitely gives a little something extra to your ensemble. A girl like me always loves a vertical stripe, especially in the leg region.
And let me tell you about the amazingness that is Kushyfoot legwear. Not only are these tights extremely durable (even for a person with long nails), but they are comfortable and easy to put on. I didn't have to look like I was trying out for a sideshow when putting on these tights, Kushyfoot nailed it when creating these babies. And one thing that I really love about them is that the legwear has a padded sole to massage your feet with every step. The feeling is amazing, especially when you first slip on the Kushyfoot legwear. I've never had tights make my feet feel rejuvenated before, so cool.
I was sent a few samples from Kushyfoot and I am in love with them all. I received some fleece lined trouser socks that I may never take off again. My feet have never felt anything so soft and I'm incredibly thankful for the fleece lining during the cold months. The
fleece tights
are a must have to keep you warm, add them to your Christmas list RIGHT AWAY.
There are so many different varieties of legwear, check out
Kushyfoot
today. I'm really glad I found them, because my hoisery and legwear drawer just got an upgrade!
Skirt: LOFT (
similar
).
Tank: Gap (
similar
).
Cardigan: LOFT (
similar
).
Tights: c/o
Kushyfoot
.
Shoes: DSW (last year).
Necklace:
Stella & Dot
.
Bracelet: gift.
I'm linking up with
The Pleated Poppy
,
Because Shanna Said So
and
Book of Leisure
.