Baby K's first birthday was Lady Bug themed, based off of a nickname that we gave her when I first found out I was pregnant with a girl. My maiden name is Mady which is often pronounced incorrectly, so to get people to pronounce it correctly I always said that Mady sounded like Lady but with an M. I had some friends start calling me Lady Mady shortly thereafter and the nickname stuck (sidenote: I mourned the loss of Lady Mady when I got married). Once we found out that I was pregnant with Baby K, we started calling her our Little Lady Mady Bug and fell in love with anything Lady Bug for her. So her first birthday theme was decided long before we even planned her party.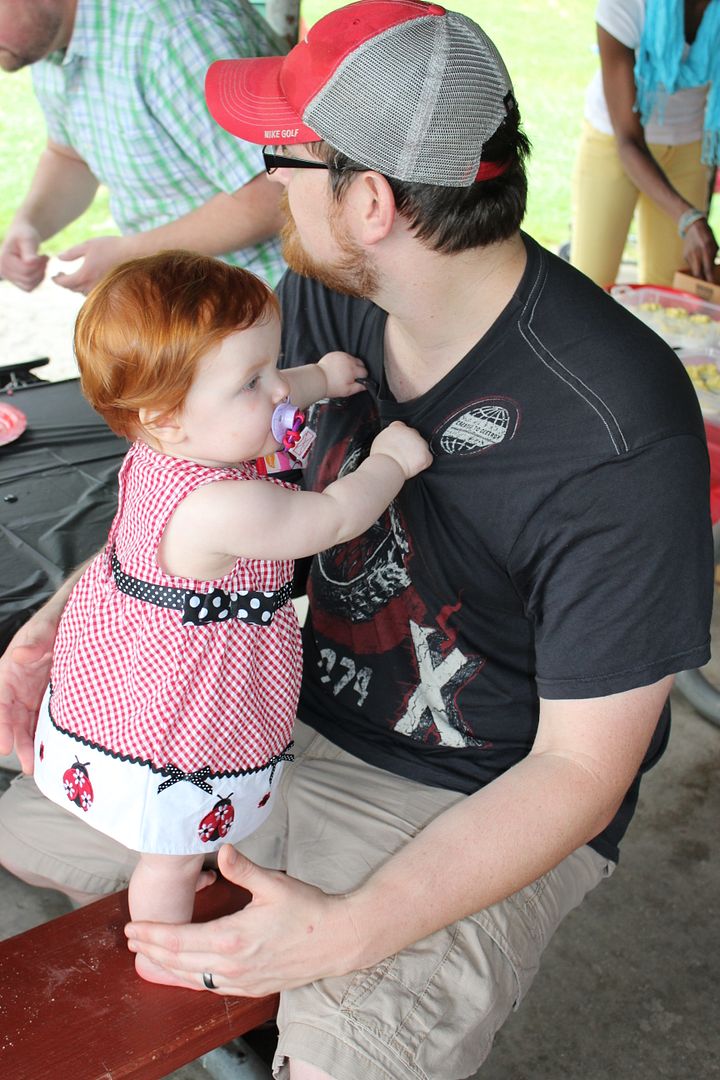 While planning her party, I wanted to be certain and keep the Lady Bug theme all through out. We included a lady bug on the evite, had lots of lady bug and lady bug inspired decor at the party and my sister even found a precious little lady bug dress for her to wear. But I didn't want the theme to stop there - I also wanted her thank you cards to include the theme. So what's a Mom to do? Check out
Minted
and all of the
fantastic thank you cards designed for kids
.
Let me tell you,
Minted
has some amazing items for those who love paper products and photos! From wedding products, to party invitations, to Christmas cards, to birth announcements, to art prints,
Minted
has you covered. So that's why I didn't look anywhere else but
Minted
to locate the perfect thank you cards for Baby K's first birthday.
I started by looking through all of the children's thank you cards just to see what was available and there were so many designs that I loved, it was actually kind of hard to choose. But it was love at first sight, when I located the "
Love At First Bite
" Children's Birthday party thank you cards.
I like pretty clean and classic designs and it is no secret that I'm a huge fan of polka dots. So when I laid my eyes on this design, I knew I had to order the thank you cards. And let me tell you, they do not disappoint in person; the coloring looks exactly the same in person as it does on my computer screen. It always irritates me when I order something thinking it is going to be one color because of the way it looks online only to have it delivered and realize it looks completely different in person. I'm so thankful that Minted delivered to the fullest potential.
Another great reason to check out Minted and their great selection of products is for the quality. They print their products on thick card stock instead of cheap thin paper. You don't have to worry about your pen ink bleeding through or accidentally ripping the card because the paper is so thin. Minted has great products, I've never been disappointed with anything I have ordered. I will keep going back for more anytime I need an invitation, thank you card or announcement. And you can customize the products to fit your family. I added Baby K's name to these thank you cards, aren't they just adorable???
And to help you fall in love with their products, the generous folks at Minted are giving one lucky Pursuit of Pink reader a $100 credit! That is such an amazing prize, just think of all of the amazing products that you can get with $100. Thanks Minted - that is seriously one sweet gift! All you have to do to enter is
click this link
to hop over to Minted's website and enter the
Giveaway
- so easy!!! Best of luck!!!