I received my first round of FASTer Way To Fat Loss complimentary in exchange for a review. All opinions, results and thoughts expressed below are completely my own.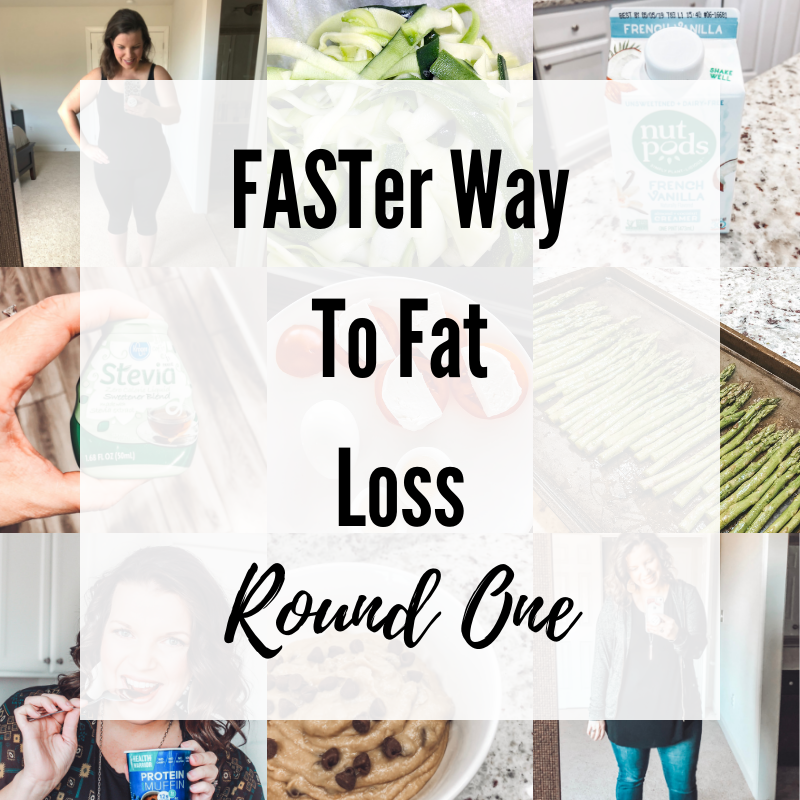 Like most Americans, at the start of 2019 I found myself looking in the mirror and vowing to make a change with my body. My baby was quickly approaching his first birthday and I could no longer use the excuse that I "just had a baby." I've tried to make many changes to my appearance in the past, sometimes I've succeeded and a lot of times I've failed. I was hopeful that this time I would succeed again. So I signed up for
FASTer Way to Fat Loss
to help me along the way.
What is FASTer Way to Fat Loss (FWTFL)?
FWTFL is a 6 week program (plus 1 week of prep) with three core principles:
intermittent fasting
carb cycling
macro tracking (carbs, fats, protein)
I'll break down each of those principles for you below and explain how they worked for me. BUT before I do that, I know you want to know the good stuff first.
The outcome
Before I began FASTer Way to Fat Loss, I told my coach that my main goal was to feel better in my clothes. (YEP! When you sign up for the program, you get your own personal coach who is there to support you every step of the way. I have a terrific coach named Jocelyn; you can
click this link
to sign up and have her as your coach too!)
I had several pieces of clothing that didn't fit like they used to and I frequently would wear black. In fact, I have a good friend who even asked me why my blog was called Pursuit of Pink if all I wore was black. Well the reason I wore all black was because I didn't feel comfortable in my clothes and wanted to do what I could to hide my body. But that is about to change!!!!
After finishing my first round of FASTer Way to Fat Loss,
I've lost 5 inches overall and 9 pounds!
And I have started to achieve my main goal as so many of my shirts are now fitting me different (read: better) and are not as tight.
This program does not focus on the scale...in fact they want you to weigh yourself at the beginning and then say goodbye to your scale. So I stayed off my scale. But I was so curious to see if I had lost weight since I noticed so many of my clothes were fitting better. So I stepped on the scale and was pleasantly surprised to see that 9 pounds were gone!
Now back to the core principles of the program.
Intermittent fasting
I've had experiences with fasting from a spiritual standpoint, so I wasn't completely nervous about this portion. Basically, you fast for 16 hours during the day (a good portion of the time you are sleeping) and allow yourself an eating window of 8 hours. I break my fast at noon each day and stop eating at 8 p.m. each night.
One of my biggest habits to break prior to FWTFL was snacking after the kids went to bed. I would often grab a box of crackers or something sweet and sit down to relax for the night. By training my mind that it was time to stop eating at 8 p.m., I was able to completely kick my nighttime snacking habit.
One of the biggest things I was worried about with the fasting, was having to give up my morning coffee...but I didn't have to! You can still have coffee AND creamer, you just have to keep your creamer around 50 calories. Prior to FWTFL, I was a creamer fanatic and I knew that 50 calories wouldn't cut it for me. So I started to look for other options. I tried skim milk and almond milk and finally found my coffee joy with
Nutpods.
Nutpods are dairy free, unsweetened creamers made from almonds and coconuts. Unlike almond milk, they are really creamy and super delicious! I would also add in a bit of stevia for some sweetness and I was good to go!
However, one thing I found through FWTFL is that I don't NEED my coffee each morning. In fact, more often than not, I skipped my coffee and just had water.
This program definitely gave me more energy and didn't have me relying on my coffee to perk me up each morning.
Carb Cycling
I have never counted carbs or even tried a low carb diet, I knew that was too restrictive and wasn't for me (give me all the carbs!). But the awesome thing about this program is that it is not restrictive at all. I'll let the FASTer Way To Fat Loss experts explain exactly what Carb Cycling is:
Carb Cycling is an alteration of carbohydrate intake to prevent fat loss plateaus and keep your metabolism working effectively. Basically, you cycle between low carb days and regular carb days to ensure that your body burns fat effectively without causing significant hormonal damage or dips in energy.
There are only two low carb days a week and they are back to back, so you get them out of the way. What I really love about low carb days is that FWTFL has you increase your fat intake to make up for the carb calories that you aren't eating. So even though my carb intake was low, I still got to enjoy really yummy food (hello guacamole!!!).
Macro Tracking
I follow a few people on instagram who talk about tracking macros, but I never knew what it was and figured it was only for really fit people. Well let me tell you, macro tracking is my favorite part of this program and I feel like it really changed my mindset!
With macro tracking, you focus on eating the right amount of fats, proteins and carbs. My eyes were completely opened to the fact that I was NOT eating enough food. I used to fill my days with tons of processed foods and sugars. I would count calories and make myself go crazy trying to track it all yet stay within my restrictions.
But I found by tracking my macros, that I focused on making sure I was getting enough to eat. And more often than not, I wasn't eating enough carbs (all the praise hands - I get to eat more carbs!!!!). Tracking macros doesn't make you take in more calories, it just helps you take in the right kinds of foods to fill your calories. As I focused on adding in enough protein and carbs, I found myself making so many better choices. In fact, during this program I've really cut down on the amount of processed foods I've eaten.
One great thing about this program is that they encourage you to have treats, each week. That has always been my downfall with other programs: they are too restrictive and I start to focus on what I can't have and fall off the wagon. But with FWTFL, they want you to enjoy your treats if they fit into your macros. And let me tell you, I made sure to fit in my treats with my macros!
This program is not restrictive at all, in fact there were many times where I thought I was eating too much because I was focusing on filling my macros. But my results tell you that I definitely wasn't eating too much!
What I love about FWTFL
I've already told you that tracking macros was my favorite part because it didn't feel restrictive. I will say it again, this program is NOT restrictive at all.
Another thing I love is that you don't have to workout for hours at a time to see results. In fact, to be perfectly honest I barely worked out during this first round. You read that right! Just by focusing on my nutrition, I was able to lose inches and pounds!!!!
This program gives you workouts that match your nutrition for each day so you can get maximum results. But another great thing is how flexible it is! You don't have to use their workouts. They are there as a guide, but if you like other workouts you can do those too.
Because of my great results, I'm going to do another round of FWTFL and I plan to workout more in the second round. My coach said she did the same thing and her results from round one to round two were incredible. But I do love that this program is very nutrition focused...that saying about Abs being built in the kitchen is so right!!!
Another aspect of this program that I like is
PREP WEEK
. Because there is a lot to learn with FWTFL, they give you an entire week to learn everything and to slowly start to implement everything. I love this because they are setting you up for success. During prep week you watch videos and learn all about marco counting, carb cycling and intermittent fasting. You chat with your coach about your goals, you receive tips and tricks to make you successful on the program and you slowly start marco counting and fasting.
Have I piqued your interest?
If you want to join me,
click this link to sign up
! I'm going to go straight from my round one right into my round two. Prep Week begins on Monday, March 4...so why don't you join me???
Click here to sign up under my coach,
we can be in the same group!
If you have any questions about what I have shared above, please feel free to reach out. I'd love to talk to you!
And because everyone likes to see photographic evidence of the results...I'll share my before and after photos below.
Please know that this is extremely personal and I feel so vulnerable putting myself out here like this. But I'm hopeful that maybe one of you reading this is just like me and wants to FINALLY make a change.
So I'm including these pictures for you.
I'm here to say that I'm no where near a size 0 model. I'm a busy mom of two who has made excuse after excuse as to why I can't lose weight. But I'm finally tired of not feeling confident. I'm on my journey to better health and WAY MORE self love.
So here you go.....