Happy New Year friends!
By now I am sure that many of you have either written down some New Year's resolutions or even said them out loud. I don't always make resolutions because, like most Americans, I often forget them before January is even over. But this year I want to do better and I hope you are feeling the same way. Keep reading...I've got a fun challenge related to New Year's resolutions below!
I'm a neat freak and tidy person by nature; it relaxes me and helps me feel in control of
something
(hello #momlife) to have a clean house. Organization is kinda my thing...if I could be a character from
Friends
, hands down I would be Monica. Yes, most of the time my house is completely in order and picked up. However, as someone with a type A personality, I always see room for improvement.
(Side note: have you ever looked up type A personality? Describes me pretty well. Type A individuals are characterized as outgoing, ambitious, rigidly organized, highly status-conscious, sensitive, impatient, anxious, proactive, and concerned with time management.)
I've decided that the start of a new year is the perfect time to go through my house and purge things that we don't need, use or want. And because team work makes the dream work and things are always better when shared with friends, I figured why not put together a decluttering challenge for everyone to take part in?!?!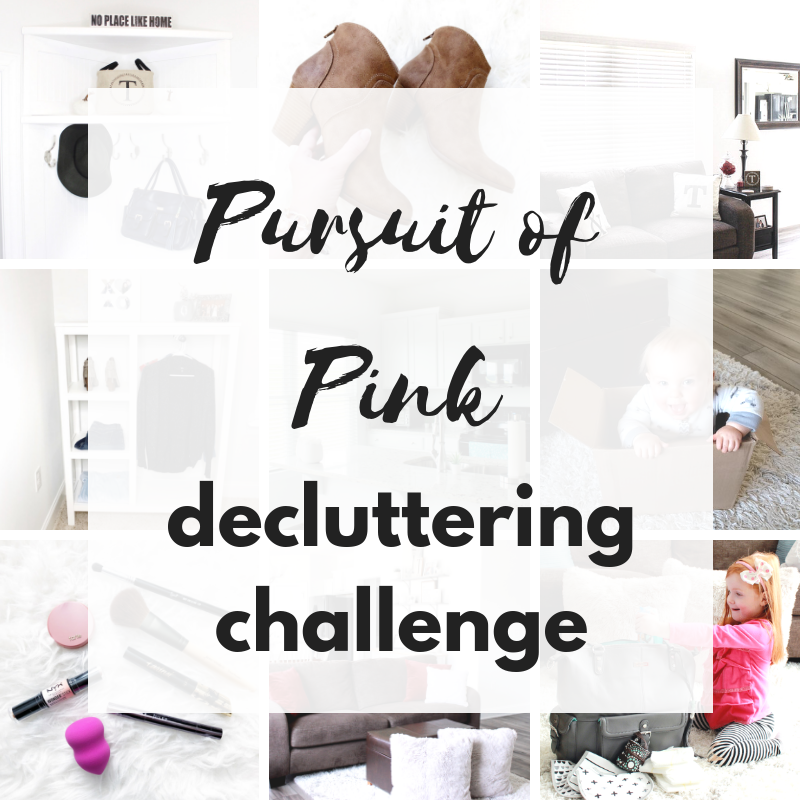 Starting on Monday, January 7, I'm going to take you through a 5 day decluttering challenge. I'm calling it #PursuitOfPinkPURGE...won't you join me?
The challenge will be simple and easy and I promise not to overwhelm you! I will break down a different place in your house each day and give you tips on how I decide what stays and what goes. We will spread the decluttering out over 5 days because I don't want anyone to lose their stamina and try to tackle their whole house in one day. I'll be doing everything right along with you. Let's take control of the clutter together!
You won't need anything fancy to take part in this challenge. The only items I suggest you gather over the weekend are trash bags and a couple boxes.
To really get into the challenge, you are going to want to subscribe to my email newsletter.
You can do so by clicking here.
For my email subscribers, I'll be sharing exclusive bonus content throughout the challenge and a little birdie tells me that there might even be a giveaway at the end...so definitely
sign up for my email newsletter
.
Let's get social while we do this challenge. I would LOVE to see how things are going for you each day. Use the hashtag
#PursuitOfPinkPURGE
whenever you post on your instagram feed or in your stories. And feel free to tag me (
@lindsaytolar
) so I can repost you and give you personal encouragement.
And one final thing...if there is anything specific that you want or need help on as far as decluttering/organizing goes, leave a comment below and I will try my best to include it in the challenge. If I'm not able to include your request in the challenge, I will certainly answer it on my
instagram stories
in the coming days.