Decluttering Challenge here we go!!!!
(If you missed Friday's blog post where I explain what this week will look like on Pursuit of Pink,
then click here
to read that post and get caught up.)

I'm ready to clear out my closets, my drawers, my rooms and get rid of the stuff that my family doesn't need, use or want. Decluttering is something I try to do several times a year and I always end up feeling like a weight has been lifted as I clear out all the stuff. I hope the same thing for you as you join me on this challenge.
DAY #1: Closets and Dressers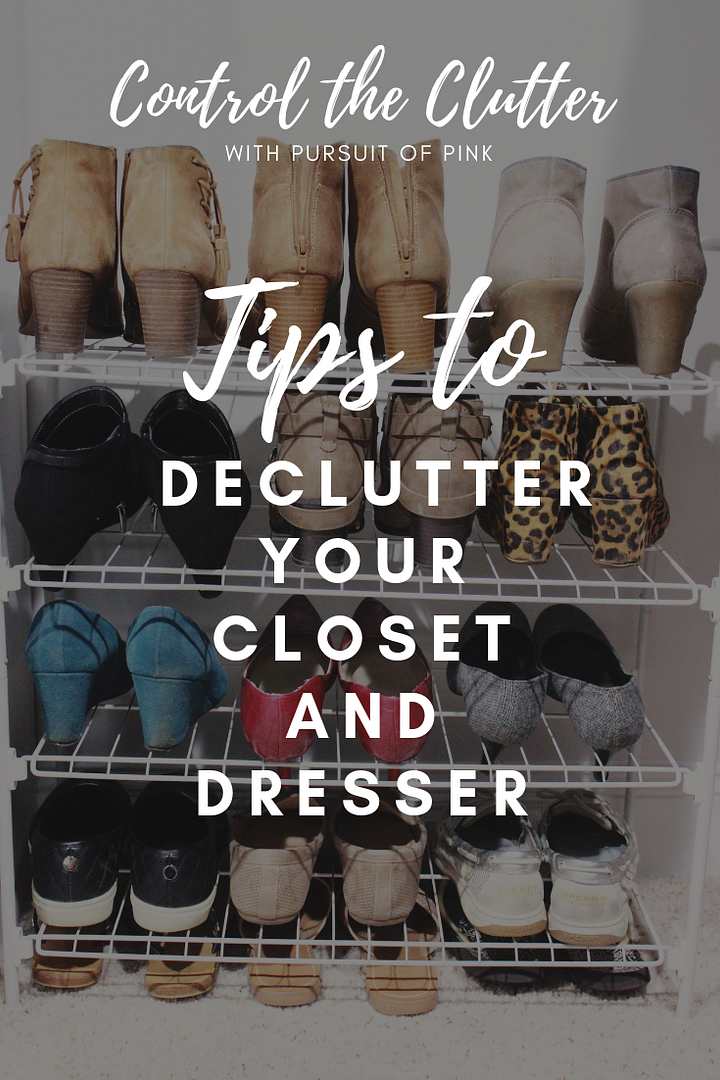 Having a neat, organized and easily accessible closet will help begin your day on a positive note. Being able to see what clothing options you have, locating the coordinating vest to go with your favorite pair of pants and easily selecting the perfect pair of shoes will make the start to your day less chaotic.
Now, I know everyone's closet situation is different...some might have a tiny closet, others might be lucky enough to have a walk-in closet and others might share a closet space. It doesn't matter what your space looks like, you can still use most of the tips and tricks I list below to determine what you should keep and what should go.
I make four piles/categories when cleaning out my closets:
keep
repair
sell
donate
1.) Start with your own clothing.
Go through your clothes, item by item, and first pull out any items that you have not worn within the last year. These items will be the first to go. There is no need to hold onto anything thinking "I might wear that someday." Chances are you won't...so it needs to go. Don't think too long on an item, if you haven't worn it just get rid of it; regardless of price, if someone gifted it to you, etc. Go through your shirts, pants/leggings, dresses, skirts, vests and blazers (and anything else that fits the clothing category).

For everything that you love and wear, put those items in your keep pile.
***My biggest piece of advice when determining if something should stay or go: ask yourself "do I feel confident in this article of clothing?" If the answer is no, I recommend you ditch it. You want to wear clothes that make you feel great.***
If a year has passed and an item hasn't been worn or if you simply don't like an item anymore, then you have a decision to make. Is it in good enough condition/current enough to resell? If so, start your sell pile. If it is an item that you just want to get out of your house immediately or don't think it will resell for much money, then start a donate pile.
Next look through the clothes that you are going to keep. Are there missing buttons on some shirts? Do any hems need to be fixed? If you find anything that needs an easy fix (can be repaired within one week), start your repair pile.
2.) Have your spouse go through their clothes.
If you share a closet, ask your spouse to go through their closet using the same tips above. If they need help, feel free to offer it...just make sure that their section of the closet also gets decluttered.
3.) Look through your shoes.
Go through all of your shoes, one by one. Do they still fit properly? Do you feel confident when you wear them? Do you still like them? If you answered yes to those questions then keep them.
Are they scuffed up? Do they hurt your feet? Do you not wear them anymore? Do you think they are ugly? Then get rid of them. Put them in the sell or donate pile depending on if you think they can resell quickly.
4.) Go through your dresser drawers too.
Go through your socks, underwear, bras, tshirts, workout clothes, pajamas and anything else in your dresser. Follow the suggestions in #1 to get rid of the stuff in your drawers.
5.) Don't forget your accessories.
Hats, scarves, earrings, necklaces, bracelets, purses, ties, belts and other accessories need to be categorized like above as well.
6.) Repeat all of these steps in your kids' rooms if you have children.
It will be up to you to involve your children in the process or not. You know your kids best and know if they have opinions on clothing yet. The biggest reason that I get rid of my kids' clothing is that the clothes simply do not fit anymore.
Kids can be rough on clothing and often develop holes in their clothes. Instead of throwing all of the clothes with holes away, I designate some as outside play clothes to get a little bit more wear out of them.
Now that you've gone through everything, you need to return your keep pile to your closet.
Here are my quick tips on how I organize everything:
1.) Organize your clothing by season.
2.) Arrange your clothing by color and sleeve length.
3.) For the OCD people in the room, I use matching hangers. This is just a personal preference, but I think having hangers all the same color and style makes everything look more neat and tidy.
4.) Hang up your ties and scarves.
5.) Refold everything that goes into your dresser drawers so it is all neat and can fit into the drawers easily.
Once your closet is cleaned up, you will want to get rid of the items in your sell or donate pile immediately! If you keep items in your house for too long, they could make their way back into your closet.
Take the donate items to a local thrift store, a women's shelter or give to a friend who might want your old clothing. When you donate to a thrift store or women's shelter be sure to get a receipt for tax purposes.
To read my tips on the best places to sell your clothes,
sign up for my email newsletter by clicking here
.
Share your progress
I want to see your donate piles and pictures of your cleared out closets. When you post on social media, be sure to tag me (@lindsaytolar) and use the hashtag #PursuitOfPinkPURGE so I can easily see everything. I'd love to encourage you along the way, so be sure to get social and share your progress.
Feel free to comment below or message me if you have any questions!
See you tomorrow for Day 2!