W
e are a little less than a month away from moving into our new home. That means that I've had home decor on the brain basically 24/7. While Tolar might be thinking about how much more space we are going to have and Kendall thinks about playing on her swing set at the new house, I've been imagining how I will decorate and organize every room.
I've been most excited about decorating the bedrooms for each of my children. Their rooms are much more fun to decorate because they both have themes. Kendall has decided on a mermaid theme because she really wants me to keep the jellyfish that I made for her birthday party last summer. And I will decorate the nursery with mustaches.
Even though we have chosen specific themes for their rooms, I am still trying to include neutral pieces that can be used for years to come. I'm sure as both of them get older, their tastes will change and new decor choices will be needed. By adding some neutral pieces keeps me from having to completely redecorate down the road.
One of the easiest ways, in my humble opinion, to add texture and dimension to a room is to add an area rug. Sometimes, just the simple addition of a rug can really take your decor to the next level. I love adding rugs to give a bit of a cozy feel to a room. However, adding a rug to a child's room can be a bit daunting. I've certainly wondered "do I really want to spend money on a rug that could potentially be spilled on and dirtied by little ones?" My answer now is YES because I've discovered something amazing...washable rugs that you can wash AT HOME from Lorena Canals.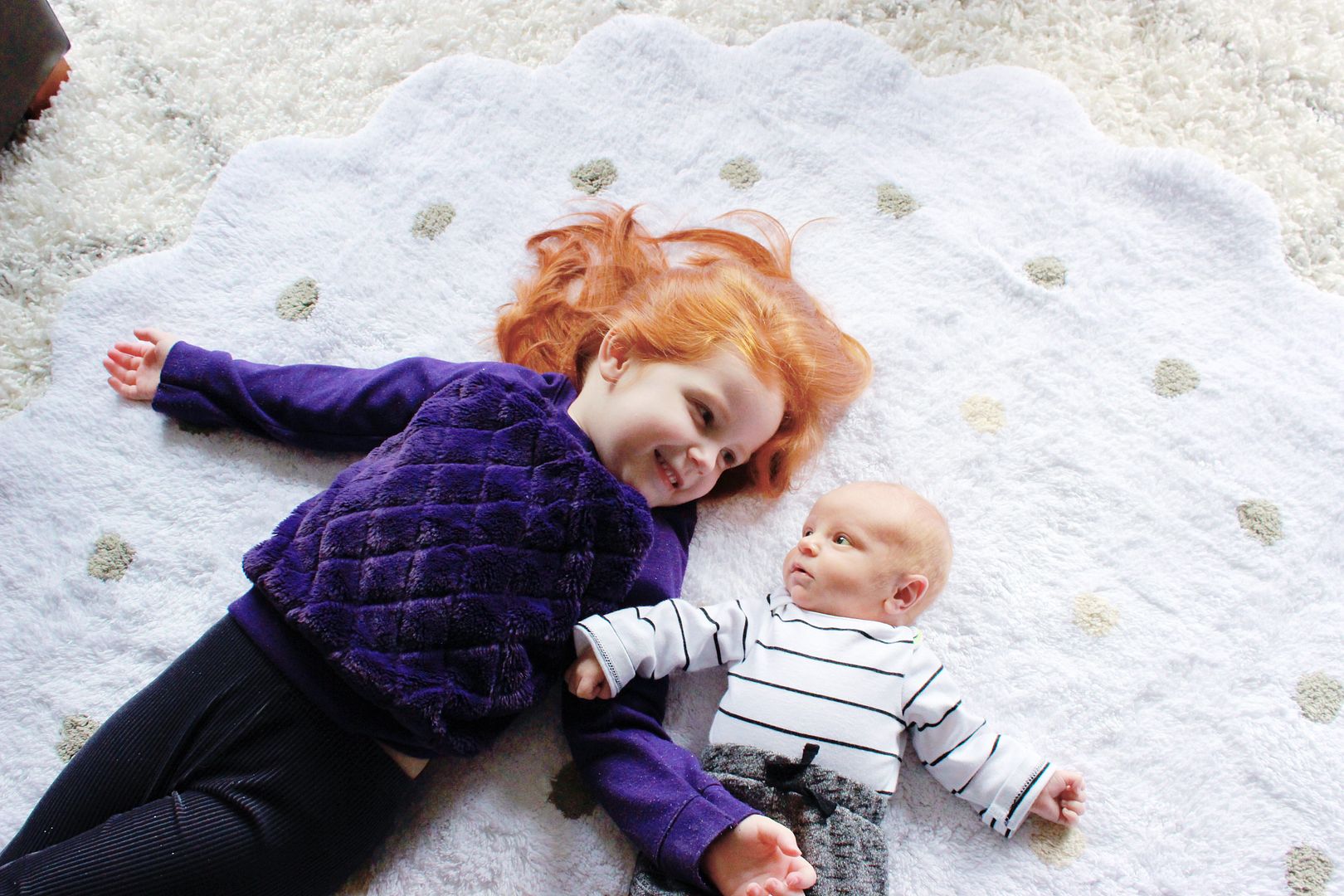 Lorena Canals
has machine washable rugs that can fit in a conventional washing machine. At home machine washing 100% seals the deal. A busy mom does not have time to be lugging a rug to a dry cleaner and with Lorena Canals, there is no need. All you have to worry about with
Lorena Canals
is deciding which rug you will choose.
Keeping with my use of neutral items, I selected the Little Biscuit rug in white. Most people would say that white should be off limits in a child's room, but I simply adore the cleanliness of white and the aforementioned machine washable factor made this an easy choice. The Little Biscuit rug comes in other colors as well. I like the white because this rug can be used in either room, gender doesn't matter. I have not fully decided which child will get this cute rug. I love the scalloped edge and it is no secret that I am a huge fan of polka dots.
Another great feature of Lorena Canals rugs is that they are eco-friendly, with 100% natural cotton and non-toxic dyes. The rug is plush, super soft and extremely comfortable. If the rug ends up going into the baby's nursery, I feel completely confident laying him down. I think the polka dots would be perfect for tummy time and would give him something to focus on. Since the rug is extremely light, it can easily be moved from room to room until I decide where I like it best. If you have opinions and thoughts on who should get this rug, please share them in the comments below.
I'm excited for us to move into our new house and to share pictures of how I will decorate and organize everything. Hopefully by the end of June I will start to have things unpacked and somewhat decorated so I can start sharing!