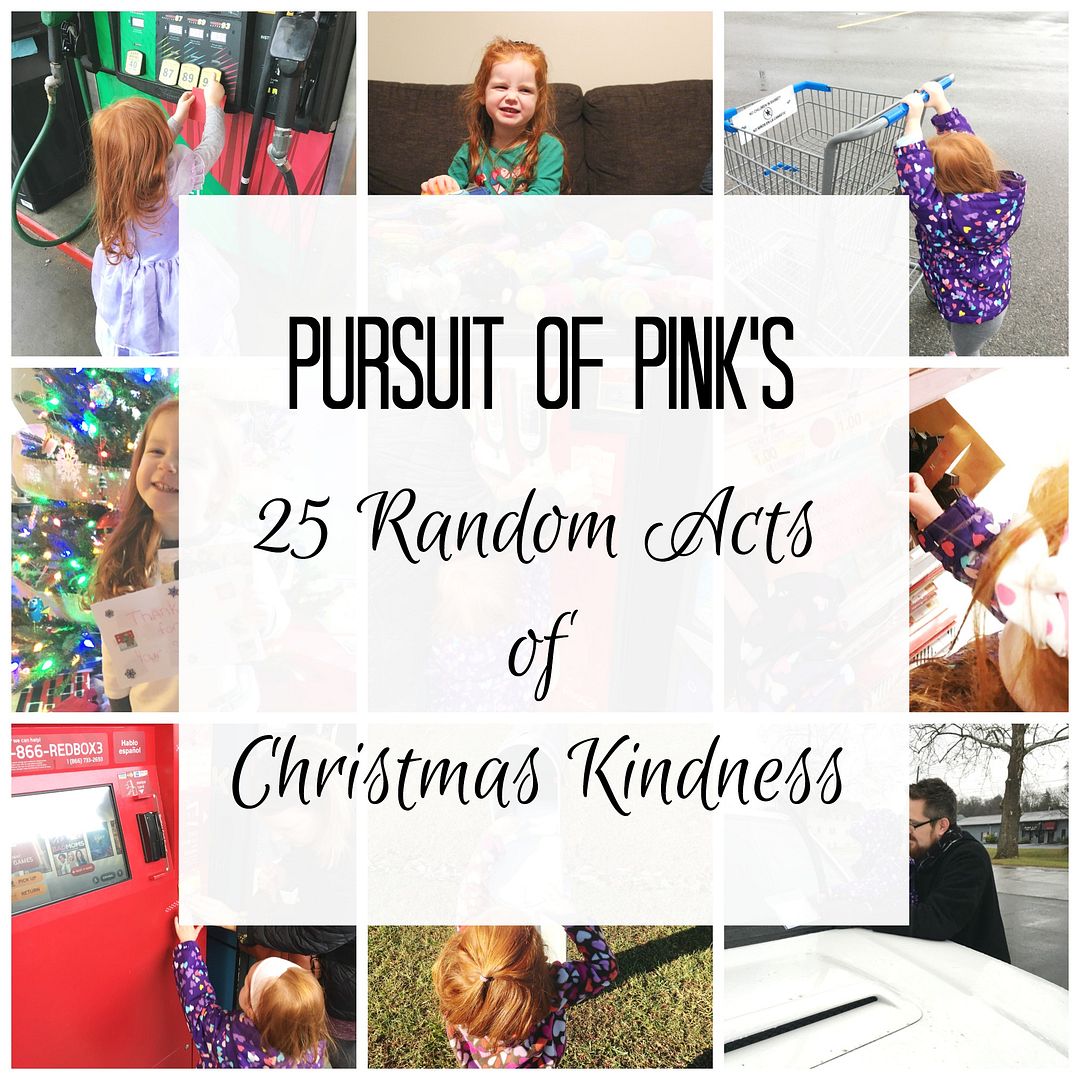 During November and December when we focus on being thankful and gift giving to those we love, I also want my daughter to focus on spreading kindness around like wildfire. We have been very blessed in so many ways and it is my hope that my child will learn this at a very early age so she can spread cheer to others always.
Last year, I introduced Kendall to 25 Random Acts of Christmas Kindness (RACK) in December leading up to Christmas Day. I got the idea after following fellow blogger,
Molly
, and decided immediately that my family would take part. I chronicled our 25 acts on
facebook
for everyone to see. I certainly hope we encouraged others to perform random acts of kindness as Molly did for us!
As I prepared for this year, I started talking about the Random Acts of Christmas Kindness with Kendall at the beginning of November. I reminded her of some of the fun things we did last year and asked her what she wanted to do this year. Her first thought was to take some of her own money out of her piggy bank and buy toys for kids who don't have any. You better believe that tears sprang to this mama's eyes! Do you see how easy it is to get your kids to care and want to give? You just have to show them.
This year, I thought it would be fun to share in advance our plans for Random Acts of Christmas Kindness. I would LOVE IT if lots of you loyal readers would take part in RACK this year. My entire life's mission is to make people feel loved and to spread happiness, so why don't we all participate together?
Below is our schedule for each random act. You can follow along exactly or create your own list. The point is just to bless others! I'll include an image at the bottom of this post that you can save to your phone to refer back to later.
If you participate, I'd love you to share it on social media. Use the hashtag
#PursuitofPinkRACK
so I can see who is joining in on the kindness.
Pursuit of Pink's 2017 Random Acts of Christmas Kindness
December 1 - Donate toys
December 2 - Leave money and popcorn at RedBox
December 3 - Let someone ahead of us in line
December 4 - Leave uplifting note in mailbox for postman
December 5 - Write thank you notes to MOPS workers
December 6 - Put back shopping carts in a parking lot that have been left out
December 7 - Leave treats for delivery men (FedEx and UPS visit our house often)
December 8 - Pay for someone behind us in line
December 9 - Candy cane a parking lot (This was our favorite last year! Basically, just buy a pack of candy canes and hang them on cars in a parking lot)
December 10 - Put a happy note on someone's car
December 11 - Tape change to a drink machine
December 12 - Donate to Toys 4 Tots
December 13 - Make a video for someone
December 14 - Leave money at the Target dollar spot
December 15 - Bake cookies for someone special
December 16 - Put money in the Salvation Army bucket
December 17 - Draw a picture for someone
December 18 - Donate books to the library
December 19 - Tape encouraging notes in public
December 20 - Thank your teacher
December 21 - Wish everyone you see a Merry Christmas
December 22 - Hold the door for someone
December 23 - Give a $5 gift card to a stranger
December 24 - Give a $5 gift card to someone who is working on Christmas Eve
December 25 - Call someone to say I Love You