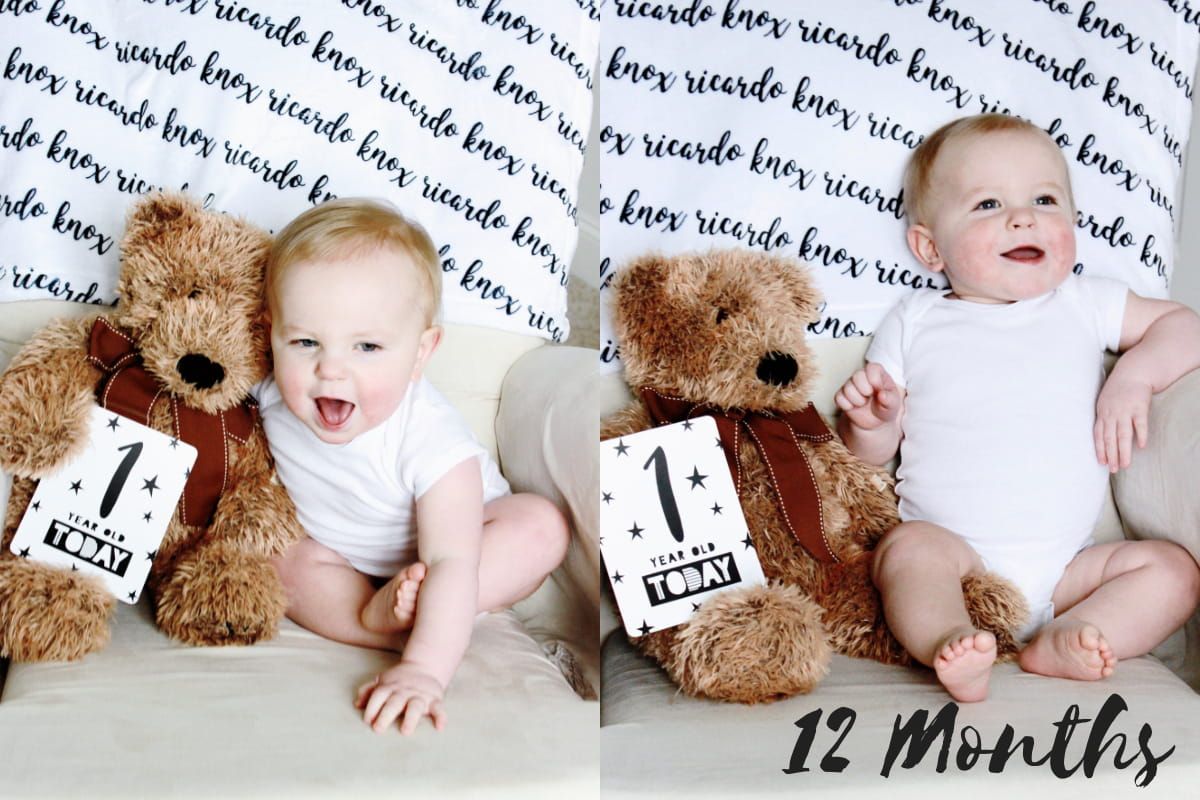 We made it to one year!!! 12 whole months with our precious boy and what an incredible year it has been!!!!!

Stats: 22 pounds. 28 1/2 inches long. Knox had a bad cold last week which landed us at the doctor (after he had RSV when he was 1 month old, I get nervous when he has a cough!) so we found out he weighs 22 pounds. Tolar and I were both shocked and expected him to weigh a bit more, but I guess all of his fast crawling has kept him in the low twenties.
I did a quick measurement of him at home for his length.

Development: Knox started taking a few steps right after he turned 11 months old. He would only take about 2 or 3 at a time and then sink to the floor to crawl. At the beginning of his 11th month, he would really only "walk" if we stood him up and tried to get him to walk between Tolar and I. But as he got closer to 12 months, he started taking steps on his own. And then on his birthday, he walked about 8 steps! He loves to cruise around furniture and walks pretty fast that way as long as he is holding on.
He has been clapping for awhile, but would really only do it if we were holding him. Now he claps all the time, especially when we ask him to. He also gives us high fives and he knows his first sound...a zombie. HA! Tolar was proud that a zombie was Kendall's third sound (after a dog and cow), but I taught Knox the zombie sound once I realized he could do it. He is so proud of himself when we ask him to clap, give us high fives or make the zombie sound.
He still only says Da Da Da Da Da, but he is able to make the mmmmm sound, so I'm working on Mama.

Loves: Knox loves bath time, the trashcan, the nightlight in an outlet, his Daddy's drum set, climbing up the stairs, his sister's toys and he REALLY loves his sister. Knox has so many toys, but rarely plays with them. He much prefers all things that a baby really shouldn't play with...so you can imagine how fun each day is at our house. I have absolutely adored seeing the bond between Knox and his big sister. He wants to be around her all the time and always has a big smile on his face when they play together. Parent pick up at school is the best example of how much he loves his sister: he gets fussy a lot just sitting in the car while we wait our turn to pick up Kendall. But as soon as she gets in the car, he starts smiling and will look over to where she is sitting the entire way home. If she is around, he is very happy. When I cook dinner, I've started having Kendall play with Knox because I know she will keep him entertained and out of the kitchen.
Dislikes: The boy does not like it when you take something away from him that he was holding. Knox likes to crawl with items in his mouth and it makes me nervous when he puts drumsticks in his mouth because they could get pushed down his throat, so I always take them away from him and he loses his mind!!! He is already showing me that I got off lucky with his rule follower sister and that he is going to be a completely different toddler. I'm dreading going to the store with him one day and saying no to something he wants.
Sleeping: Knox's bedtime is between 7 and 7:30 p.m. and we've followed that for awhile. He does sleep through the night, which we are very thankful for. He's been sleeping through the night pretty consistently since he was five months old. But he sometimes like to wake up at 5 or 5:45 a.m. However, since his birthday this past Saturday, he's been sleeping until 7 a.m.! I am saying that is his birthday present to us!!!
His naps are extremely consistent and much longer now, which I'm very thankful for. Although, we are late to church a lot on Sundays because he will sometimes stretch his nap to past 10 a.m. Thank goodness for live streams and podcasts!

Diapers: He continues to wear size 3 Pampers Swaddlers and size 4 Pampers Baby Dry (for bedtime).

Eating: We switched Knox to cow's milk about 2 weeks ago and he loves it. Tolar gave it to him one day and he didn't act like anything was different; he drank it all!
He very much prefers real food and we have pretty much gotten him on our eating schedule instead of eating every 4 hours like he did when he was a baby. He LOVES pancakes for breakfast and eats as much as his sister does...if not more. He also loves cheese and black beans. We gave him a tiny taste of peanut butter and he loved that too! We are certain that in the very near future he will be finishing whatever his sister doesn't eat.

Clothing: He is completely into 12 month clothing. I just packed up all of his 9 month clothes because they are too short. And we put him in shoes for the first time yesterday!

Miscellaneous: Bath time is a game changer in our house. If Knox is having a bad day and crying a lot, I will give him a bath and his mood totally changes. He loves the bath!