Tuesday, January 24, 2023
So you have a desire to decorate but you don't know where to begin, right? Using just a few tricks, you can easily create a room or a home that you love. I've identified seven tips below that I use often whenever I decorate my home. (If you want to see this blog post in a reel/video format, click here to go to my instagram profile.)
1.) Clean your space.
Yes, I know this sounds boring, but starting with a clean space will instantly transform your room. Clear out the clutter, get rid of items that don't belong in that particular room, and vacuum/dust. Also, always make the bed if you are working in a bedroom. Doing a bit of cleaning first helps you to start with a blank space which keeps you from getting distracted when you actually start to decorate your house.
2.) Choose a color palette.



It is helpful to decide on 3-5 colors that you want to use in a space. This way you have somewhere to start when deciding on what
décor
pieces to select. If you focus on selecting items that are similar in color or in the same color family, then your room will have a cohesive feel. Also, this will help to give some vision to the design of the room instead of just putting anything and everything into the space.
To make a room feel cozy and welcoming, you want to add in different textures. Try using throw pillows, blankets, rugs, window treatments, and wall hangings to add dimension and interest to a room.
4.) Feature walls can make a big impact.
Consider adding a feature wall to a room that you want to decorate. This could mean simply painting the wall a bold color, adding some molding/trim/board and batten, or painting a design on the wall. Adding a feature wall will give your room a focal point for not a lot of effort or money. Feature walls help to give a room a new look and liven it up without redecorating the entire space.
5.) Use plants to bring in color.
If you want to add some extra color to a space but don't want to make a big purchase, consider adding plants. You can use real or fake plants, whatever you are comfortable with. Plants also help add warmth to a room. Start simple and learn as you go.
6.) Group items in odd numbers.
Odd numbers create visual interest better than items grouped in even numbers. Three is a good number to use, but other odd number groupings work well too. You can use odd number groupings with pictures/art, a gallery wall, similar objects, or by placing three different objects together.



7.) Use different heights of objects.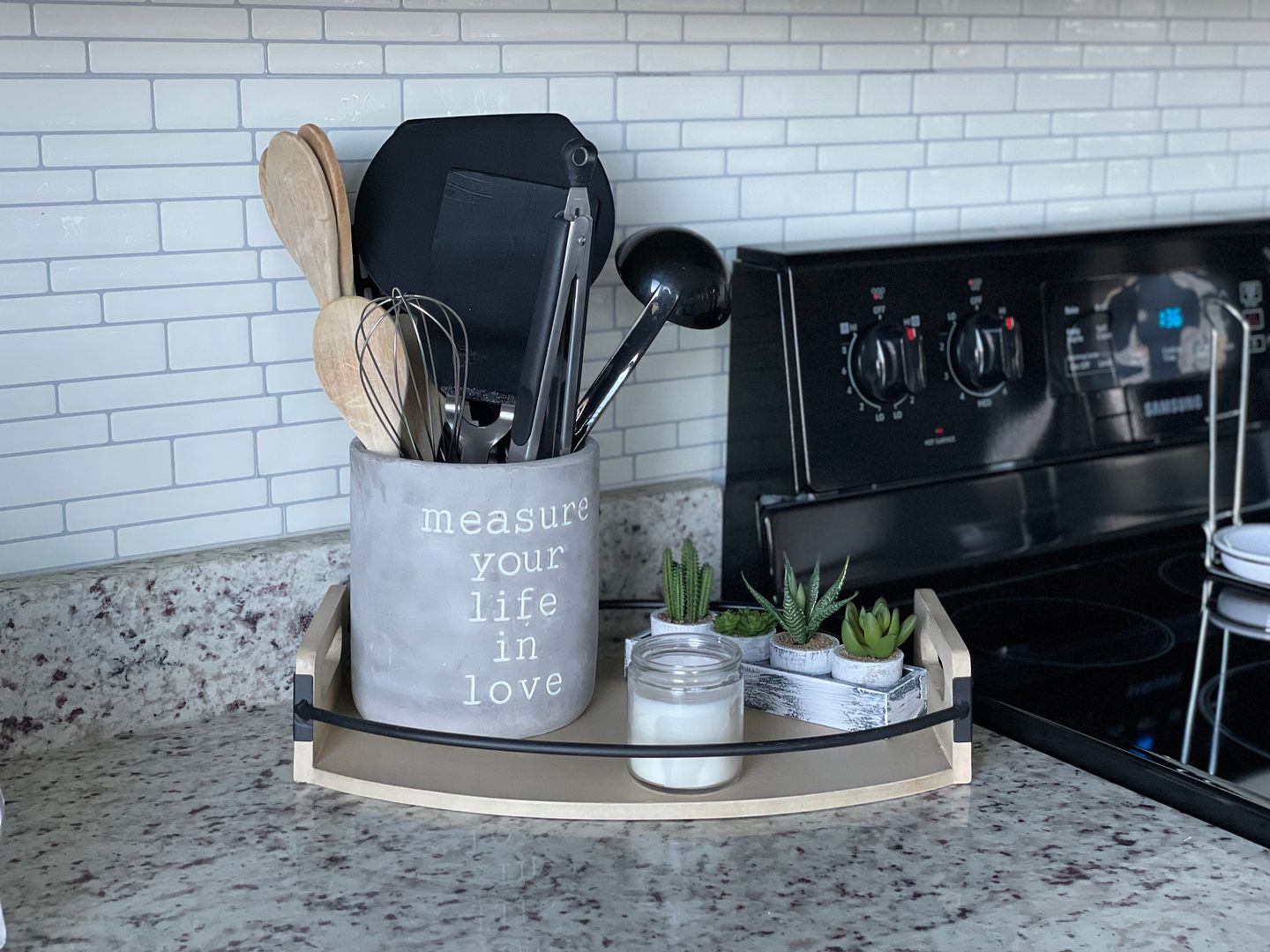 Having objects that are all the same height can be boring, but if you use items that provide different heights, then you will create a better look for your decor. Play around with groupings until you find something that works for you. It is ok for items to NOT be symmetrical, that actually adds interest to your decor.
Which of these tips do you think you are going to try out first?
Featured Post
About Me
Welcome to Pursuit of Pink. I'm Lindsay and I'm so glad you are here. I believe a positive life is a happy life. Join me as I try to walk that out daily - in life, motherhood, style and more.
View my complete profile
Categories